Genetic Variants Related to Longer Telomere Length are Associated with Increased Risk of Renal Cell Carcinoma.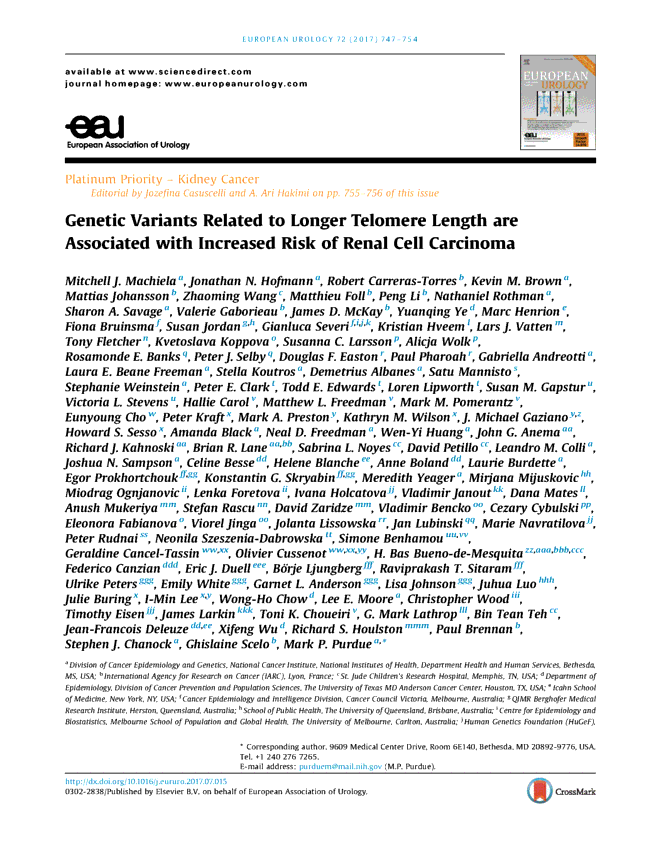 Title
Genetic Variants Related to Longer Telomere Length are Associated with Increased Risk of Renal Cell Carcinoma.
Published in
Eur Urol 2017, 72(5):747-54
Publiekssamenvatting
Relative telomere length in peripheral blood leukocytes has been evaluated as a potential biomarker for renal cell carcinoma (RCC) risk in several studies, with conflicting findings.

ae974a485f413a2113503eed53cd6c53

10.1016/j.eururo.2017.07.015
Scopus Count
Collections
Related items
Showing items related by title, author, creator and subject.
Corrigendum re "Genetic Variants Related to Longer Telomere Length are Associated with Increased Risk of Renal Cell Carcinoma" [Eur Urol 2017;72:747-54].

Machiela, Mitchell J; Hofmann, Jonathan N; Carreras-Torres, Robert; Brown, Kevin M; Johansson, Mattias; Wang, Zhaoming; Foll, Matthieu; Li, Peng; Rothman, Nathaniel; Savage, Sharon A; et al. (

2018-05-28

)

Circulating bilirubin levels and risk of colorectal cancer: serological and Mendelian randomization analyses.

Seyed Khoei, Nazlisadat; Jenab, Mazda; Murphy, Neil; Banbury, Barbara L; Carreras-Torres, Robert; Viallon, Vivian; Kühn, Tilman; Bueno-de-Mesquita, Bas; Aleksandrova, Krasimira; Cross, Amanda J; et al. (

2020-09-03

)

In a case-control study nested in the European Prospective Investigation into Cancer and Nutrition (EPIC), pre-diagnostic unconjugated bilirubin (UCB, the main component of total bilirubin) concentrations were measured by high-performance liquid chromatography in plasma samples of 1386 CRC cases and their individually matched controls. Additionally, 115 single-nucleotide polymorphisms (SNPs) robustly associated (P < 5 × 10-8) with circulating total bilirubin were instrumented in a 2-sample MR to test for a potential causal effect of bilirubin on CRC risk in 52,775 CRC cases and 45,940 matched controls in the Genetics and Epidemiology of Colorectal Cancer Consortium (GECCO), the Colon Cancer Family Registry (CCFR), and the Colorectal Transdisciplinary (CORECT) study.

Genome-wide meta-analysis identifies five new susceptibility loci for pancreatic cancer.

Klein, Alison P; Wolpin, Brian M; Risch, Harvey A; Stolzenberg-Solomon, Rachael Z; Mocci, Evelina; Zhang, Mingfeng; Canzian, Federico; Childs, Erica J; Hoskins, Jason W; Jermusyk, Ashley; et al. (

2018-02-08

)

In 2020, 146,063 deaths due to pancreatic cancer are estimated to occur in Europe and the United States combined. To identify common susceptibility alleles, we performed the largest pancreatic cancer GWAS to date, including 9040 patients and 12,496 controls of European ancestry from the Pancreatic Cancer Cohort Consortium (PanScan) and the Pancreatic Cancer Case-Control Consortium (PanC4). Here, we find significant evidence of a novel association at rs78417682 (7p12/TNS3, P = 4.35 × 10-8). Replication of 10 promising signals in up to 2737 patients and 4752 controls from the PANcreatic Disease ReseArch (PANDoRA) consortium yields new genome-wide significant loci: rs13303010 at 1p36.33 (NOC2L, P = 8.36 × 10-14), rs2941471 at 8q21.11 (HNF4G, P = 6.60 × 10-10), rs4795218 at 17q12 (HNF1B, P = 1.32 × 10-8), and rs1517037 at 18q21.32 (GRP, P = 3.28 × 10-8). rs78417682 is not statistically significantly associated with pancreatic cancer in PANDoRA. Expression quantitative trait locus analysis in three independent pancreatic data sets provides molecular support of NOC2L as a pancreatic cancer susceptibility gene.